Electric Transverse for Coil Horizontal Transportation Trolley
---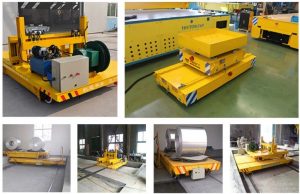 Electric transverse for coil horizontal transportation trolley
Introduction of Coil Transverser 
Perfect Material Handling offers a wide range of Die Handling Products specifically designed for the unique needs of both stamping and molding and transporting heavy die or mold from die storage to the press line.
These die transfer cart is widely used in the processing line of
punching, pouring, cold heading, extrusion, powder metallurgy parts pressing, pressure casting, and engineering plastics, rubber, ceramics and other products of the compression molding or
injection molding
.
Our die transport products are operated on rails or travel on cement floor, and include die transfer cart, die transport trolley, die rail cart, trackless carrier, battery operated carriage, electric flat vehicle, industrial trailer, motorized railway bogie, steering platform table and so on.
Tags:
Coil transverser