Horizontal baler strapping pallet and skid loads in horizontal direction
August 4, 2021
4 Comments
---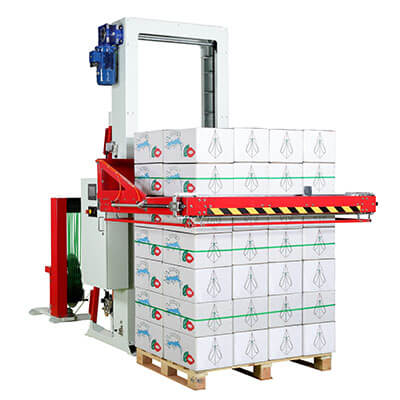 The horizontal baler machine is an unique strapping machine designed for horizontal packaging of goods by strapping pallet and skid loads in horizontal direction used in conjunction with vertical pallet strapper. The packaged cargo is safer and more stable for the movement or transportation of the whole pallet product.
The technical parameter of the horizontal pallet baler:
Packing speed: 15 seconds/piece
Tightening force: 15~70 Kgs
Bow frame size: W1450*H1400mm
Applicable band width: 9,12,15,19 mm
Tape bonding method ironing head bonding
Reel inner diameter: 200/400 mm
Minimum conveyor height: 500 mm
Power supply voltage: 220/380/415V. 3PH
Air pressure: 5~6bars
Power: 3.5 Kw
Dimensions (L*W*H): 3180*1877*3400mm
The characteristic of the horizontal pallet baler:
PLC control.
A variety of packaging modes can be set.
Automatically alarm if the belt is not delivered to the location.
Automatically alarm if packaging fails.
Automatic alarm for missing belt.
Add anti-floating device for packing belt.
You can choose to use PP or PET strapping.
The bow frame is a safety anti-collision device to avoid collision with the cargo.
Suitable for unmanned automatic packaging line.
Tags:
Strapping machine