Load and material handling inverter
March 17, 2022
0 Comments
---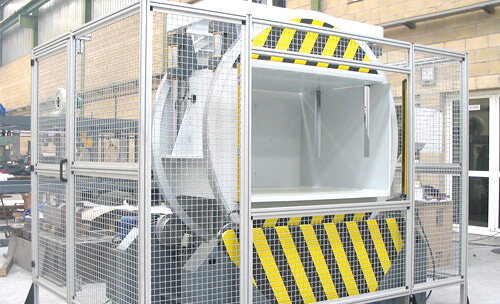 Our load and material handling inverter includes O-frame shape and C-frame shape models, they are used to rotate the entire loads for a 180 degree motion and protect the integrity of the loads and products inside. This series of load handling inverters have a large range of application and is suitable for variant products such as panel bundle, steel sheets bundle, ply-wood and corrugated paper sheets……Also have the experiment of tipping molds and dies and stacks of steel blanks as well as other objects and material.
Optional customization for the O-shape (also called barrel shape) inverters and C-frame shape inverters:
The hydraulic driven scissor type clamp for a wide range of load heights.
Multiple  direction feeding and clamping to increase the speed of inverting.
Programmable PLC for automatic controlling and continuous loading and unloading.
Wide range of load sizes and dimensions customized accordingly.
All sorts of conveyors including motorized conveyor and unmanned roller table available to build on the machine.
Barrel inverter or O shape inverter got the name from their circular shape. It's suitable for automated production line with a high speed and capacity of operation. For example in the corrugated paper factory, workers can feed the stack of corrugated sheets up to 1.5 meter into the machine to invert for printing the other sides before cutting it and make cartons.
Except this, there are also heavy load model designed for aluminum blanking and the clamping can be down by pneumatic and hydraulic cylinders. And powered roller conveyor enables the machine for automatic feeding process and easy to integrate with customer production line and packing line…..
This customized and engineered barrel frame load inverter machine has the capacity of 2 tons. It's designed to rotate steel blanks up to 1800mm square by 1000mm high with 180 degree. The machine has a welded steel inversion cradle which is mounted on 4 machined steel bogey wheels with lubricated roller bearings.
Tags:
Upender and tilter