This mechanical device is designed to handle the turn over work of plastic injection molds and casting dies with the help from crane or hoist. It has craddle with adequate dimension and strength to bear the heavy molds and dies which weighing up to 5 tons. Using thick wall square tube as the raw material with high quality bearings to guarantee the performance of the mold turner.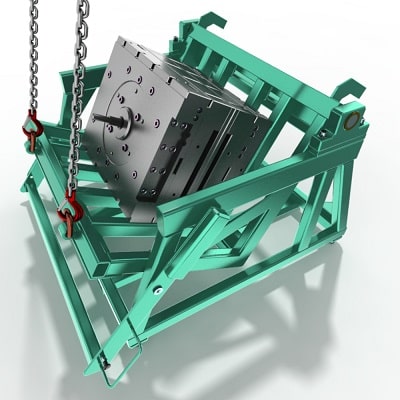 90 degree turn over to change the injection molds and casting die to ideal direction;
Steel construction welded from thick-walled closed profiles, high loadability up to 5 tons;
Suitable lashing installed on the device, convenient to connect with hooks and chain on hoist;
A strong support beam to hold the craddle after the mold has been flipped;
Simple operation, no need for operator training;
Small space requirements, suitable for every workshop;
Low purchase price, affordable to small business owners.
Turn over degree
90°
Max load
5 tons
Dimensions
1500x1400x1000mm
(LxWxH)
Net weight
450kg
Lifting equipment
Crane/hoist/forklift
More accessories and special design or customization are acceptable, welcome to contact our team with your specific requirement and data information.