Automatic Cotton and fiber bale PET strapping packaging machine
---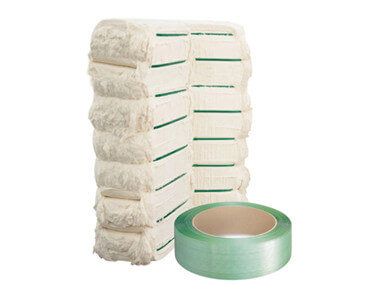 For nearly a century, we has been a trusted source for cost efficient and reliable cotton bale packaging systems. From the introduction of polyester strapping as an alternative to wire bale ties to our revolutionary cotton bale packaging system. Our innovations have helped to modernize streamline and simplify cotton bale packaging operations. Our latest cotton and fiber bale packaging system is designed to be compatible with a variety of presses including presses with doors, down packing lift box presses and up packing presses. It is built with our innovative modular quick change technology to facilitate easy maintenance and minimize downtime complete with six strapping heads that apply up to six straps simultaneously.
The foundation of our cotton bale packaging system is the modular strapping head which is comprised of two independently driven modules, one for strap feeding and take up, and the other for sealing. Weighing less than 60 pounds each either module can be quickly removed and replaced between cycles. Enabling operators to perform maintenance while continuing to run at full capacity to further minimize maintenance time we've incorporated modularity into the shoot system as well. Entry and exit chutes are all easy to switch out without the use of tools improving uptime and a zero clearance shoot design, improves strap feeding reliability by closing the space between the entry and exit chutes. So each strap can be accurately fed around the bale to further ensure smooth uninterrupted operation.
Our new modular cotton bale packaging system comes standard with automatic strap refeed. This feature automatically attempts to refeed the strap up to three times when an obstruction is inhibiting the strap feeding process.
Our cotton bale strapping systems use our high strength tenex polyester strapping, which is specially formulated to have the properties of steel while providing the performance advantages of plastic strapping with excellent elongation and recovery characteristics.
The strengthened tennix is ideal for cotton baling applications where cotton bales shrink dimensionally. When compressed and expand significantly when released plastic strapping is also easier to handle and dispose of than wire. Making it safer and more economical than other cotton bale tiring materials.
Approved by the cotton council and other institutes, our PET strapping heads z-weld strap joint yields superior shear strength and peel resistance for maximum reliability. Machine speed reliability and ease of maintenance are all compelling reasons to switch to an automatic cotton and fiber bale packaging system. When combined with high strength 10x bale strapping packaging systems can help maximize productivity for your operation.
Tags:
Cotton bale strapping machine