Automatic vertical coil packing line for steel strip coils and copper coils
April 11, 2021
2 Comments
---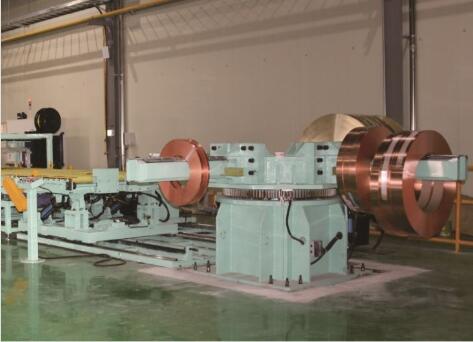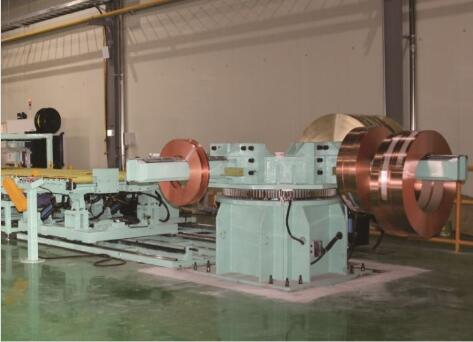 Our automatic vertical coil packing line build according to the needs of the modern metallurgical industry to achieve efficient and intelligent packaging of products by the dedicated improvement on designing, which is widely applicable to different sizes of steel strip coils, copper coils, aluminum coils, etc.
The packaging system is mainly composed of a turnstile, a coiling system, a coil transverse, a coil packing machine, a stacking system, etc., which can realize the separation, packaging, stacking, and other functions of coils with a width of 30mm~400mm or less . custom made. PLC program with HMI operation.
The production line is controlled by a general control table while each unit can be controlled separately and manually.
Work process of the machine:
The steel coil is stored on the turnstile.
The coiling system picks up the steel coils one by one from the turnstile, and then transfers them to the coil transverse for wrapping.
The coil transverse enters the packing station for automatic packing.
The trolley transfers the packaged coils to the unloading station.
The discharge system stacks the packaged coils and tilts them at 90 degrees.
Turnstile
It is at the front, which is connected to the machine.
It can be rotated and positioned accurately.
The hollow structure in the arm is used for coil positioning.
Cross structure.
Take-up system
The take-up system is directly connected to the turnstile to reduce labor costs and save time. It is used to automatically picking up the coils one by one.
Two packing trolleys work alternately to pick up the coil and feed it into the coil wrapping machine.
Automatic coil packaging machine
The automatic packaging machine uses composite paper, plastic tape, stretch film and other materials to automatically stretchwrap the coil.
PLC and HMI carry out automatic control.
The overlap rate of the wrapping belt can be adjusted.
Automatic positioning and automatic cutting.
Feed into the packaging machine and clamp it with a manipulator.
The surface of the bearing roller is wrapped by polyurethane.
Coil discharging and stacking mechanism
The system is used to eject and stack the wrapped coils.
Tilt the coil by 90 degrees after stacking, and then transfer it to the storage station.
Manually place wooden pallets.
Tags:
Automatic coil packing line for slit steel coils and copper coils