Aluminum profile orbital wrapping machine
---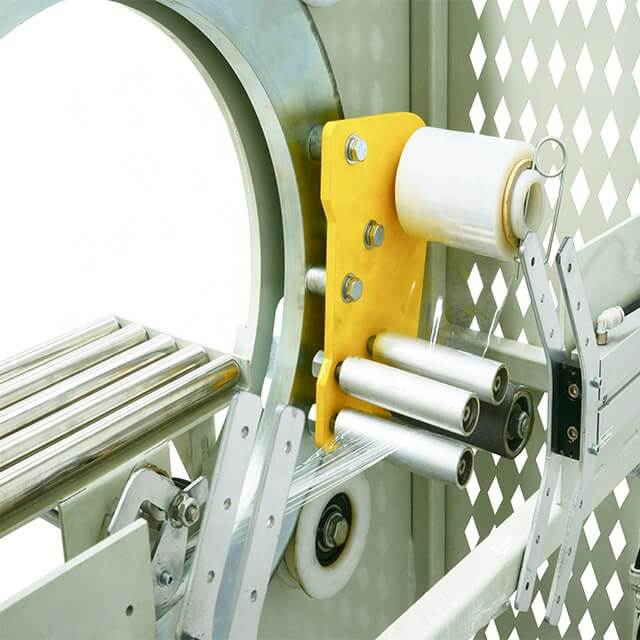 The aluminum profile packaging machine is the horizontal orbital wrapping machine which easy to operate, dexterous, durable and low in noise. Used on the surface of spirally wound tube bundles. It is also the packaging machine widely used in outer riser tube bundles, wood bundles, plastic pipes, steel pipes, copper pipes, pipes, aluminum pipes, stainless steel pipes, plates, floors, bars, doors and windows, etc.
The great machine with availability to match with stacking, strapping, winding and weighing devices to form a packaging line. Customized solution, the height, length and width can be designed according to customer requirements and needs. With special conveying device, it's convenient for loading and unloading the objects for packaging and bundling, improving conveying capacity;
The machine Can make the profile and bundles into beams, hexagons or polygons. Automatic strapping can be used to reduce production costs and improve work efficiency; Adopt photoelectric sensor to set the packaging position;
The rotation of the orbital wrapping machine is controlled by the converter. With the overlap rate can be adjustable through the converter to the right speed as needed. A separate control panel is designed to used to make the operation and maintenance of the orbital wrapping machine easier;
With special cutting device design, the automatic cutter by hot melting or mechanical cutting blade. The tension of the packaging material can be adjustable automatically by the operators.
Tags:
Orbital wrapper